Be sure and look at our page, Puppies with new family! Thanks
Yorkshire Terrier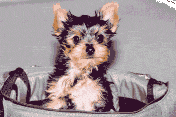 GET YOUR BEST FRIEND TODAY.
We have puppies! Born June 16th 2020 and Born June 25th 2020. Will be ready around August 11th and August 20th 2020. Thank you

Keep watching for more info, Or you are welcome to contact Me at 256-597-2415 or text 423-762-8351

Puppies will receive Neopar PV Shot at 6 weeks old, and a 5 way shot at 9 weeks of Age

Puppies will be wormed every two weeks with SafeGuard / Pyrantel Pomoate.

Puppies has to be eatting good and away from mom before they leave me.

Puppies are 850.00

Shipping is 350.00

Puppies can't be ship until 8 weeks of age.